The IBU Seniors Congress was held in the Cavan Crystal Hotel from 18-20 April, and was very well-attended. Great to see the numbers back for this very popular event, which suffered a bit last year as the very first congress to be played live after the covid interruption. Thanks as always to Aileen Timoney for her sterling efforts in organising the congress and canvassing players from all over the country to support it, and to Fearghal O'Boyle and Mairead Basquille for directing. The prizewinners (pictured below with IBU President, Harold Curran) were:
Gala Pairs – Helen Hall & Michael McFaul
Congress Pairs – Gay Keaveney & Peter Goodman
Congress Teams – Pat McDevitt, Gay Keaveney, Enda Glynn, Peter Goodman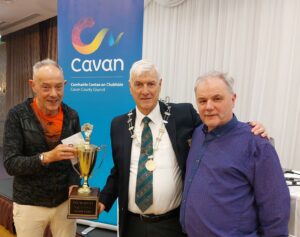 IBU Senior Pairs Winners 2023
This weekend sees the Lady Milne Trophy (women's home international championship), in Perth, Scotland. Best of luck to the Irish team – Jeannie Fitzgerald, Joan Kenny, Rebecca Brown-O'Keeffe, Gilda Pender, Teresa Rigney, Siobhan Part, and NPC Paul Porteous. Ireland has never won the Lady Milne, but we have high hopes this time around with a strong and experienced team in good form, as Jeannie & Joan's win last weekend in the Moylan will attest. Full details, including running scores will be available here.
And we also have the finals of the National Teams Championships (for the Kelburne Cup, Bankers Trophy, and Tierney Trophy) inn the Killeshin Hotel, Portlaoise, this weekend. Numbers are not quite as good as for the Pairs equivalent a few weekends ago, but all three competitions promise to be well-contested nonetheless. Good luck to all the participants. Session-by-session results will be available here.