Why Play Bridge?
If you have reached this page, you are obviously thinking of learning to play bridge. Congratulations – you've made a good choice!
Playing bridge has many attractions:
It's fun
It's social
It's great value
It's played all over the world, by people from all walks of life
It can be a lifelong pursuit
It involves continuous learning
It's competitive, within a grading system that pits you against your peers
It's primarily a game of skill, with a little luck thrown in
It provides mental stimulation
Research shows that it makes a positive contribution to your health, both mental and physical
These are just some of the reasons that keep people coming back to the bridge table, and why many busy and successful people always keep time in their schedules for bridge. 
or incididunt ut labore et dolore magna aliqua. Ut enim ad minim veniam, quis nostrud exercitation ullamco laboris nisi ut aliquip ex ea commodo consequat. Duis aute irure dolor in reprehenderit in voluptate velit esse cillum dolore eu fugiat nulla pariatur. Excepteur sint occaecat cupidatat non proident, sunt in culpa qui officia deserunt mollit anim id est laborum.
"Bridge is more than just a card game.  It's a cerebral sport.  Bridge teaches you logic, reasoning, quick thinking, patience, concentration and partnership skills.  And no matter where I go, I can always make new friends at the bridge table."
"Bridge is such a sensational game that I wouldn't mind being in jail if I had three cellmates who were decent players and who were willing to keep the game going 24 hours a day."
"I remember the pure disappointment when the last game would have to be played, and life, in all its dullness, would have to be faced again with no cards in my hand."
You can read his thoughts on bridge, and what he regards as its profound influence on his writing career, in full here.
Bridge Classes 2023/24
All teachers listed on this site are CBAI-accredited.  If you need a qualified teacher to give classes in your area please contact us on (01) 4929666.  We recommend that you do not use unaccredited teachers.
We have been notified of both live (face-to-face) classes and online classes, using one of the bridge platforms and Zoom or some equivalent communication package. You'll find details of the bridge teachers active, both face-to-face and online (in two separate tabs), here; feel free to contact any of them to check on their current or planned classes.
If you are a teacher planning classes yourself, either in-person or online, please let us know and we'll be happy to include the details here.
Becoming A Bridge Teacher
For many players, teaching bridge is a very worthwhile and satisfying experience.  In the interests of the students, it is essential that bridge teachers are themselves well trained.  The CBAI has designed a special training programme for players who wish to become accredited bridge teachers. This programme comprises two main parts – a preliminary test of basic competence for the prospective candidates, and then a weekend seminar for skills development and at which the candidates' teaching abilities are assessed. As part of the programme, we also provide a variety of supports to the prospective teachers, most importantly a set of detailed teaching manuals at a cost of €100.
The next new teachers' seminars is planned for the weekend of 18/19 November, in the Templeogue Bridge Centre in Dublin. To register your interest in attending, please contact Fran on (01) 4929666 or at info@cbai.ie as soon as possible – don't forget you will need to do the preliminary tests locally if you have not already passed them. 
Our recommended basic bidding system for beginners is available here. You will also find a good summary introduction to bridge on the No Fear Bridge website.
Register Your Students

The CBAI offers free registration to students under tuition in beginners' classes with a registered teacher. The students are asked to provide some basic information to allow us to keep in contact  with them if necessary. In return, they get a special welcome pack (including a CBAI diary, pen, newsletter, some bridge tips, and a pack of cards) and can enter relevant CBAI competitions. We have found that this exercise works well, and gives the students a sense of belonging to a wider organisation.
So we would encourage all teachers to register their students with us. A special GDPR-compliant form is available here. Please enter your own name at the top where indicated.
MiniBridge

MiniBridge is a simplified version of bridge, very widely used as the introduction to the core concepts of the game with bridge beginners. It was first developed as introduction to bridge for schoolchildren, but is now used with students off all ages.
MiniBridge enables you to start playing bridge right away without having to know anyhting about any bidding systems. Apart from bidding, it contains all the components of actual bridge, and everything you learn in MiniBridge is relevant to bridge – playing in partnerships, counting your points, communicating your values to your partner, how to play the cards, both as declarer and in defence, scoring, and so on. If you are a bridge teacher, or are interested in becoming one, and you haven't seen MiniBridge before, we'd strongly encourage you to take a look at it. The CBAI has produced a guide to MiniBridge, the EBU has a comprehensive  section on the topic on its website (note the supplementary pieces in the tabs on the right-hand side), and the NoFearBridge team has an excellent MiniBridge site.
There is strong evidence that learning bridge is a valuable source of development in young people.  It has positive impacts on a whole range of areas, including logic and problem-solving, mathematical reasoning, teamwork and communication, memory, and social skills.  In addition, playing the game can be a source of great enjoyment for children, and, as with most activities, the younger you learn, the more likely you are to become extremely proficient at it.  And from the school's perspective, offering bridge, either in class (for example to transition year students) or as an after-school activity, offers an additional item on the menu of options provided to its students.  The top junior players have the opportunity to play annually in international competitions, which can be a source of prestige for them and for their school.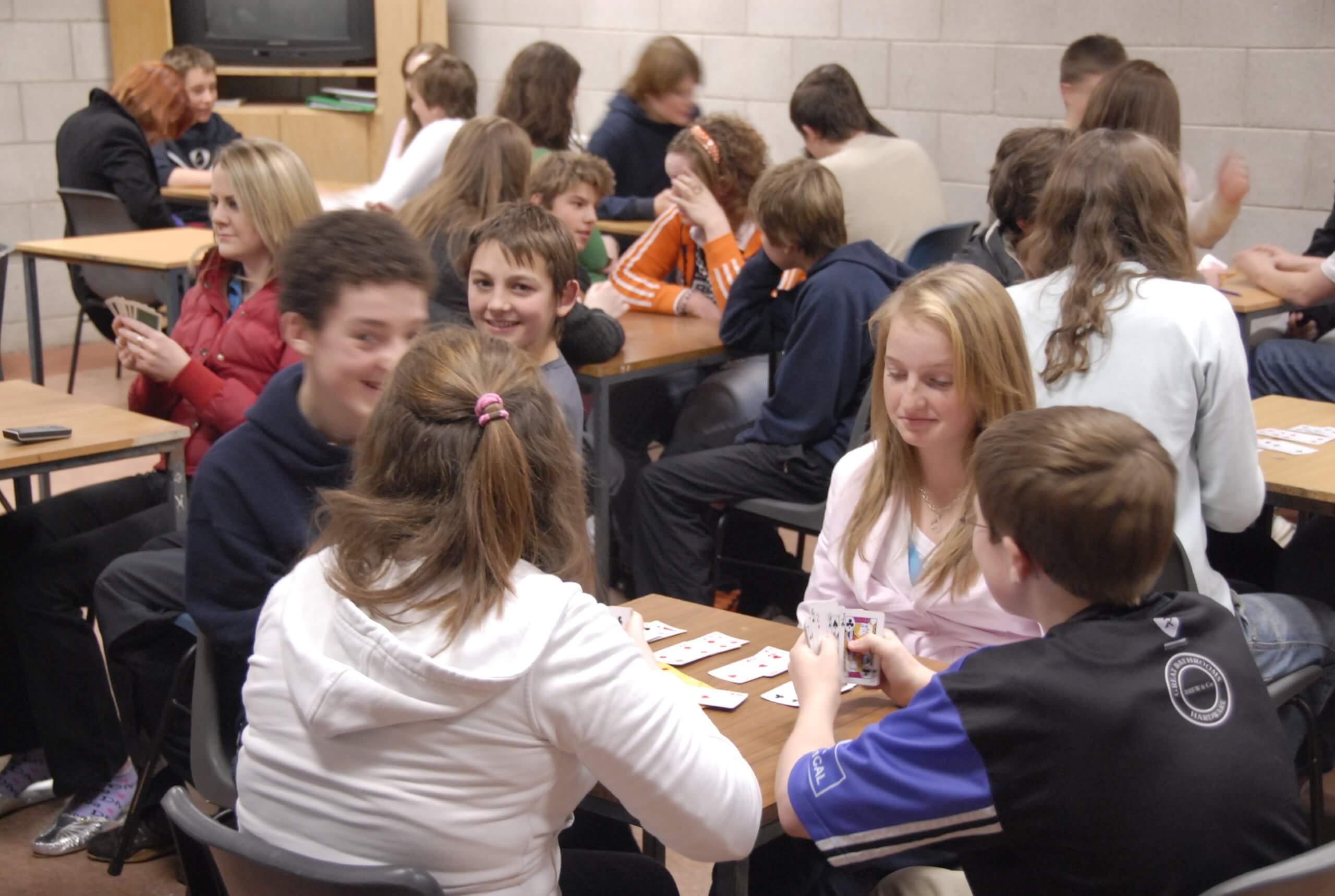 Many schools now include bridge in their pre-Junior Cert and/or transition year programmes, and we expect this to increase.  In countries such as China and Poland, bridge is part of the national school curriculum.  If you are a school interested in offering bridge please to your students, please contact us on (01) 4929666 or at info@cbai.ie. And if you already run bridge in your school, then there are a number of schools' bridge competitions during the year in which you can participate; see the Junior Bridge website for more information and for contact details.
Teaching bridge in schools requires some additional skills to those required for teaching it to an adult audience. The CBAI can assist prospective teachers in deciding whether they would be suitable for schools teaching.  If you are a bridge teacher interested in teaching in schools, or indeed a professional teacher looking to have bridge introduced to your school, please contact us on (01) 4929666 or at info@cbai.ie.  Please note that teaching in schools is an activity that requires Garda vetting – this is organised via the school concerned.
Contact Details
Phone: (01) 492 9666
Email: info@cbai.ie
Address: Templeogue House, Templeogue Rd,
Templeogue, Dublin 6W, Co. Dublin, D6W F822
Designed by Nettl of Dublin