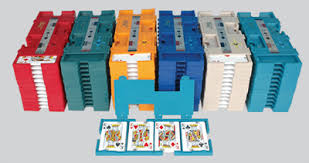 Dealing Service
Say goodbye to the laborious chore of manually duplicating boards for your major competitions.
For just €20 per set, we will provide you with random computer-dealt boards together with a master sheet showing the full layout of all the boards, and a digital file for your website where needed. Pre-printed curtain cards can be provided at an additional cost of €5 per set, and printed hand records for distribution to the players are available at €0.15 per copy. Reviewing the hands after play is a vital part of improving the performance of any developing bridge player.
The club is responsible for the collection and return of the boards, and, if you are not a confirmed regular user of the dealing service, or if you are varying your normal order, we will need ten days' notice of your requirements.
To avail of this dealing service, please contact us on (01) 4929666.
When they first play computer-generated deals, some bridge players report that the hands were "unfair" because they produced more extreme distribution than human-dealt deals. In fact, the issue is that the computer-generated hands are truly random, whereas human dealing (or more accurately, human shuffling) very often results in less than truly random combinations. For those who are interested, there's a good article on this topic by an expert in statistics and artificial intelligence here. (Incidentally, we are also sometimes accused of manipulating our computer-dealt hands to produce wild distribution; please believe us when we tell you that our dealers are so busy that they wouldn't have time to make any manual interventions even if we asked them to … which we don't!)
Contact Details
Phone: (01) 492 9666
Email: info@cbai.ie
Address: Templeogue House, Templeogue Rd,
Templeogue, Dublin 6W, Co. Dublin, D6W F822
Designed by Nettl of Dublin