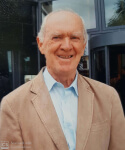 We are saddened to announce the death of Paddy Carr of Stranorlar, after a long illness. Paddy was a past President of both the CBAI and the IBU, and was "Mister Bridge" in Donegal, where he was for many years the driving force...
Want to Learn to Play or Teach Bridge?
If you are thinking of learning to play bridge, congratulations – you've made a good a choice, a game which will fascinate, stimulate, and occasionally frustrate, you for the rest of your life. Click below for details of classes being run under the auspices of the CBAI.  If you're already a bridge player, and would like to pass on to your knowledge and experience to aspiring players, click below for details of the CBAI's teaching programme.
Contact Details
Phone: (01) 492 9666
Email: info@cbai.ie
Address: Templeogue House, Templeogue Rd,
Templeogue, Dublin 6W, Co. Dublin, D6W F822
Designed by Nettl of Dublin